The photo that illustrates this chronicle changes history for us. Simple as that. What we knew so far was that Diego Armando Maradona had come to Chile for the first time in March 1980. The reason? A friendly between Colo Colo and Argentinos Juniors which was played at the National Stadium and was broadcast by TVN.
In those years, the white team was going through a difficult economic moment and this game, managed by the public signal through producer Pedro Cárdenaswas going to suppose an income of 200 thousand dollars in benefit of the coffers of the Cacique.
"When, to everyone's delight, the match between Colo Colo and Argentinos Juniors begins at the National Stadium, with the presence of the child prodigy of America, Diego Armando Maradona, the most important stage of the campaign that emerged within Televisión Nacional will have been completed. From Chile, to go to the aid of the most popular football club in our country", announced a note from Estadio. As a way of joining the crusade, the magazine also provided tickets to Asunción so that a couple of fans could accompany the team in its Copa Libertadores matches. The information also highlighted a photo of the director of the outlet, Hernán Solís, together with the popular entertainer Enrique Maluenda.
The "Fluff" came from being champion six months earlier in the Youth World Cup in Japan. He was 19 years old and his talent aroused enormous interest among fans. In its pages, Estadio reported on the rising soccer star and his schedule in the capital: "When it was 1:00 p.m. and four minutes, the plane that deposited the new King of soccer on Chilean soil for the first time: Diego Armando Maradona, landed. The rest of that day, Monday, March 10, the Argentinos Juniors star spent at the hotel. The day of his debut before the Chilean public began at ten in the morning for Maradona. At that time they served him breakfast (coffee with milk and toast with jam and butter) and he stayed in his room until he went down for lunch after 1 pm (entrée of avocado and ham, consommé and a steak with purée and salads)", it was read in the chronicle of the time.
The encounter had little of friendly and many additional condiments. In Ñuñoa, more than 65,000 spectators witnessed five goals, wholesale kicks, sent-offs, and an embarrassing end before regulation time expired. A violent foul by Leonel Herrera against Diego Maradona unleashed the angry protests of the Argentines. Number 10 had to be removed on a stretcher and referee Víctor Ojeda ended the match before regulation time. The chronicles of that day focused on some showy plays by Maradona, who would end up that night with a knee in a cast. After the eventful duel, the player was taken by ambulance to the Posta Central along with galindez (Miguel Di Lorenzo), a historic prop man and masseuse for the Argentine national team who at that time worked at the La Paternal club.
Also highlighted was the cordial greeting between the captains (Caszely and Diego), the presence in the stands of Elías Figueroa and Braulio Barbosa, a Brazilian midfielder identified with the colors of Inter Porto Alegre who closed his career in the "U" that same season. , Besides of fighting spirit shown by that Colo Colo who came from being champion and who won 3-2 with a double from Chino and an impeccable free kick executed by Ramón Héctor "Mané" Ponce. "At Maradona's party, Colo Colo put on the orchestra," summarized the chronicle of Estadio magazine in its headline.
The real first visit of Diego Maradona to Chile
But this story was missing a key piece of information. A piece, in this case an old black and white photo, that completely alters the chronology of Diego's steps in his relationship with our country. Posing seriously, with the Palacio de La Moneda in the background, the image of a 13-year-old Maradona stands out among that group of boys. The evidence of the record clarifies an episode ignored until now and that the experienced reporter experienced very closely Carlos Jimeno (78).
"He had met Rubén Magdalena (soccer entrepreneur, former Boca Juniors and Unión Española player). through the Cat I was making good contacts in Argentine soccer like José D'Amico, Menotti and Bilardo. It also located Francisco Cornejo and his assistant José Trotta. Francis He was the coach of that Los Cebollitas de Argentinos Juniors team that was undefeated for six years, winning more than 150 games in a row in all categories", recalls who was a member of the Sports section of the newspaper La Tercera at that time.
Jimeno's story coincides with the memories of one of the protagonists of that sensational team of children's football. Former left back Abelardo Carabelli (62) shared with Maradona in the Argentinos Juniors cadets and in the youth team that was crowned against the Soviet Union in 1979. "With Diego we were partners for ten years. How can I not remember that trip if it was the first time we got on a plane. Our legs were shaking, we were scared to death, but very excited. I turned 14 years old while in Santiago. I don't remember exactly what the reason was, but they called us as a club and we all traveled uniformed with Thomson and Williams, a fashion house that no longer exists", comments the former Argentinos, Talleres y Huracán among other paintings.
The story goes like this: With their undefeated poster and their outstanding performances in the Evita Perón tournaments, Los Cebollitas received this invitation to travel to Chile as an award from the Ministry of Social Welfare of the neighboring country. "Here an event was invented to celebrate Trade Day, they believed that with that they were going to keep people entertained. We came from the coup d'état and a show was put on with artists, with Channel 13, Don Francisco and this children's soccer game was put together that was televised for a while and it was a total disaster", says Jimeno.
"There was a mistake in the organization because we were young and we played against much older guys. I don't think they did it on purpose because it didn't make sense, but it's too much of a difference facing guys who are four or five years older. A long time ago I dedicated myself to training players and at that level it's crazy to do something like that because it's impossible to compete", points out Carabelli. Currently in charge of a player training center in the city of Olavarría, The former soccer player remembers from his work in the training area of ​​River Plate the coexistence with figures such as Erik Lamela, Leandro González Pírez, Ezequiel Cirigliano and Mauro Díaz.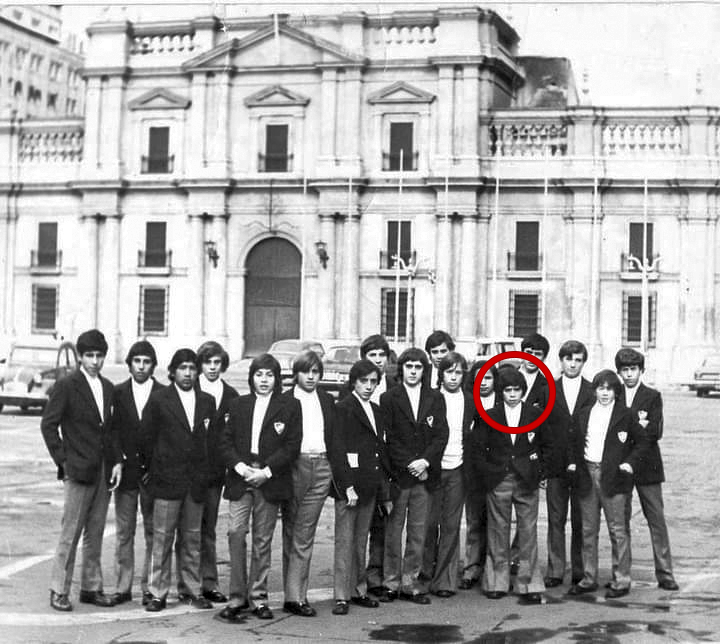 From a hospital room in the La Florida commune, where he is trying to recover from a delicate health situation, Carlos Jimeno reveals more background: "This happened on a Saturday at the Nacional, a week before the World Cup in Germany and there were a lot of people in the stadium. It started to rain and the Argentine boys were made to play against a (Sports) Aviation team where Mr. Roberto Antonio Rojas Saavedra was. For me, this was the first trap of the Condor. People don't have to know these things, but I knew him well. He lived in front of the Salvador hospital where there was a field and he did not make cadets. He played central defender in Gitanos, a team that competed in the Ñuñoa League. That day José Moroni was also there, one of those who later reached the first division. That was a scandal. Diego Maradona was hit hard, a goal was disallowed and the game ended prematurely".
In January 1979, the journalist would coincide again with Maradona and Rojas in the youth South American of Paysandútournament of sad and shameful memory for national football.
"When I arrived with my note to the newspaper, the head of Sports threw it away. Now that I look at Maradona surrounded by his teammates in La Moneda, months after the bombing, I remember so many notes that went into the trash can. Who has won the Pato Yáñez? They told me once that I proposed. But those are the things that happen in this trade. The trainer, Don Francis Cornejo, was a gentleman and his goats were short. Blue jacket, black moccasins, elephant leg pants, all arranged as seen in the photograph. There appear Daniel Gunpowder Delgado, who was the captain and goalscorer, Goyo Carrizo, Montaña, Lucero, Chaile, Duré among those I recognize", comments Carlos Jimeno with enthusiasm and emotion.
"I have the original of that photo. Francis took it and he gave it to me with a birthday card. I am the one who is standing first on the right because I did not like to go out and tried to hide. We toured Santiago, we visited the government house, we were kids, we didn't know much more, but of course they told us that there had been a revolution recently, because you could still see the marks of the bullets in La Moneda and we understood that it was something historical . While in Chile we got to know the snow and stayed at the Sheraton. For us, who were kids from very humble neighborhoods, I from Mataderos and Diego de Fiorito, everything was a luxury", concludes one of the witnesses of Diego Maradona's true debut in Chile. Write down the date: Saturday June 8, 1974.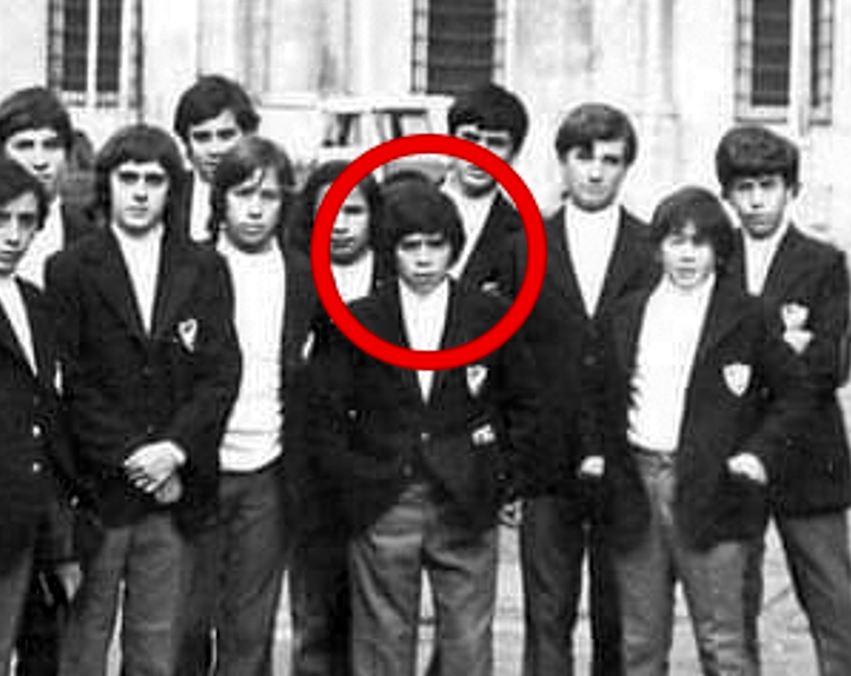 .