Sony announced the arrival of a new PlayStation 5 model that, responding to comments from many users, will be lighter than its original version.
Although this news has generated a lot, it should be noted that it is not a PS5 Slim or Pro. It is simply a small reversal that clearly points to the design.
At the moment there are no further official details, but leaks and reports from various stores notify that the new edition arrives under the technical name of IFC-1200.
Furthermore, as reported by Press Startthis PS5 will also have its two versions: the CFI-1202B model, the digital Edition, and the CFI-1202A, with unit disc reader.
PS5 CFI-1200 Details
Regarding the specifications and characteristics of the consoles, in its digital version is 200 grams lighter than the 2021 model, while the one with reader is 300 grams less than last year.
The weight of the consoles is established as follows:
2020: Disc: 4.5 Kg / Digital: 3.9 Kg.
2021: disc: 4.2 Kg / Digital: 3.6 Kg.
2022: disc: 3.9 Kg / Digital: 3.4 Kg.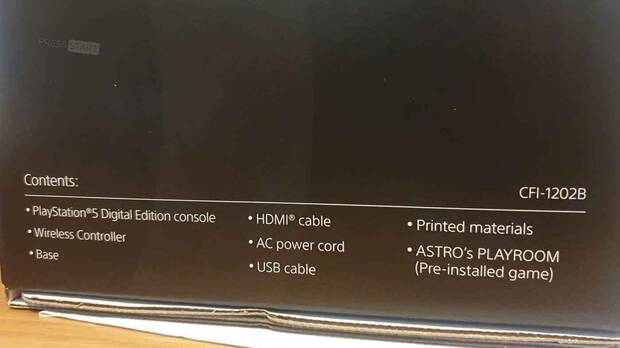 PS5 CFI-1200 specs basically point to a new 6nm AMD chipset. Although it is a more modern component, it is reiterated that there will be an increase in power or improvement in operation.
Some of the experts and specialized media thoroughly analyze the arrival of the new console. In this sense, they point out that, beyond achieving a new image and lighter product, there is another factor behind it.
As indicated, one of the characteristics of this 6nm AMD is that it would allow Sony greater efficiency in the production of consoles.
Although this new lightweight PlayStation 5 model has not yet been officially launched, Japanese stores point to the September 15 as arrival date. Despite this, there are already copies in some markets and establishments, from where information has been leaked.
One point to note is that an increase in the price of PS5 consoles in general is expected. This was anticipated by Jim Ryan himself, president of Sony Interactive Entertainment.
"Although the price is higher, it is necessary due to the global economic environment and its impact on the SIE business, the priority remains the improvement in the availability of PlayStation 5 so that as many gamers as possible can experience what PS5 has to offer and what is yet to come."
.